What kind of food can I expect?
Eating together is an important part of any holiday and we know how tricky it can be to please everyone in the family.
PGL Family Adventures include breakfast, lunch and dinner; making food one less thing for you to think about. Breakfast, lunch and dinner will usually be served in the dining room, although at some centres there may be a barbeque on one evening during the week.
We can cater for most diets (please let us know when you book), all meals will always include a vegetarian option.Please ensure that you have advised us of any dietary requirements before the start of your holiday.
For all UK holidays the first meal on arrival will be the evening meal and the last meal will be lunch. On our French Adventures the first meal on arrival will be your evening meal and the last meal will be breakfast.
Our 'PGL BIG breakfast' – provides you with an improved selection of unlimited cooked and continental options.
Lighter tastier lunches – with a choice of daily specials, from fresh sandwiches which you can bespoke, to salads and soup.
Delicious 'family favourites' evening meals – with sharers and a bar drinks service available too.
Relax, refuel and enjoy some quality family time, without needing to do the cooking or the washing up! Tea, coffee and water will be available at all mealtimes. We also now offer a barista coffee bar and a wide choice of soft drinks, craft beers, ciders and wine (additional cost). All of our centres have an on-site bar for the use of family guests. (Please note: children will be asked to vacate the bar at 10pm).
View our sample UK family menu below:
French Adventures
If you are visiting Chateau de Grande Romaine on one of our French Adventures you can expect all of the usual PGL family friendly food, but with a Parisian twist. Enjoy a continental breakfast with croissants (of course!), a tasty lunch buffet and two course dinner (including a glass of wine for the adults). On excursion days our centre team will even supply packed lunch items for you to take with you if you wish.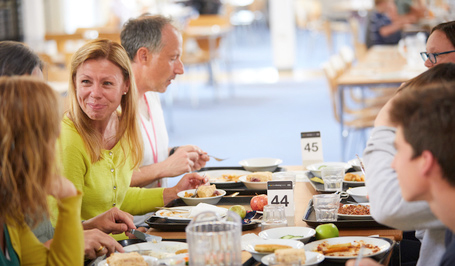 Food Allergies
We wish to work with all of our guests to provide a safe and enjoyable experience. We expect parents/guardians to supply any information in relation to food allergies and intolerances prior to travel. On site, we aim to give as much information as possible so guests can make informed food choices. At each meal time, allergy information will be clearly displayed for each dish. If guests are ever in doubt about a product or dish, we recommend they immediately ask a member of the catering team or their group leader who will speak with our catering manager for clarity.
We ask suppliers to provide nut free products. However some food items are made in factories that use these ingredients. We do not sell nut products in our shop and ask that you do not bring any food items that contain nuts to our centres.