Family Adventures at Barton Hall

Devon

Barton hall, set in 46 acres of the English Riviera and with views reaching across to the sea, is our most popular, family-friendly centre.

Family Adventures at Barton Hall

Devon

Barton hall, set in 46 acres of the English Riviera and with views reaching across to the sea, is our most popular, family-friendly centre.

Family Adventures at Barton Hall

Devon

Barton hall, set in 46 acres of the English Riviera and with views reaching across to the sea, is our most popular, family-friendly centre.
Go to the coast and jump into something amazing!
Barton Hall has all the facilities you need for a fantastic family holiday. Amongst the exciting activity areas positioned around the outdoor heated swimming pool and former country mansion, you'll find a watersports lake, a great sports hall, fun games room, large family dining room and great chill-out areas to relax in.
On offer at Barton Hall:
Weekend escapes
Short breaks
Week long holidays
Devon's warm climate, the close proximity to Torquay, the great activities on offer and Barton's beautiful, fun outdoor heated pool have consistently made Barton Hall our most popular family centre.
It's also the only PGL centre to include 'flexi-sessions' offering additional choice and flexibility within the planned programme of activities.
These daily sessions allow you to choose to do another multi activity (always offered at each flexi-session), grab some extra time in the pool, play an organised 'family game' or relax in the bar or social areas.
You can also opt to try skiing in one of your flexi-sessions, at the Torquay Alpine Ski Club dry ski slope that adjoins our centre. Pre-booking is required and costs £15pp, per activity session booked. Please see the activities section below for details on how to book.
Please see below the accommodation options available at PGL Barton Hall on our Family Adventures.
All rooms are made up with bedding provided and tea & coffee facilities are included in all rooms with adult guests.
Family room
Ideal for a four-to-six person family, these bunk-bedded rooms come with your own en-suite shower room.
Family room plus
For adults who prefer not to bunk, these rooms come with two single adult beds, a bunkbed for two kids, plus an en-suite shower room.
Adult and child room
Perfect for those parents who want the additional privacy and separation of their own room, adjacent to, or alongside a separate room for their children. Includes an adult room with two single adult beds, alongside a separate bunk-bedded room for up to six kids. Both rooms have an en-suite shower room.
At the majority of our centres we are pleased to be able to offer affordable room options for smaller families of 2 or 3 guests, where no under-occupancy fess are required, but in some instances, some room choices may incur an additional under-occupancy charge if you wish to book them for 2 or 3 person families. Please contact our customer team to discuss the best options for you on 0333 321 2114.
Once a country mansion, this large, family orientated centre has a range of brilliant facilities including an outdoor heated swimming pool, family bar & lounge, chill out/games room, outside terrace with giant games and more. You can even try a traditional Devon Cream Tea in the Devonshire Bar. A must have treat!
Highlights:
Heated outdoor swimming pool open Easter - October* with inflatable game sessions
Private 46 acre site
On-site access to Torquay Alpine Ski Club dry ski-slope (optional extra)
On-site lake
Large outdoor terrace and giant activity games.
Comfortable lounge
Family bar
Chill out/games room
Large family dining room
*Pool opening times vary during high/low season and are weather dependent. During high season a restricted time slot system may be in operation to allow all guests to enjoy the facilities.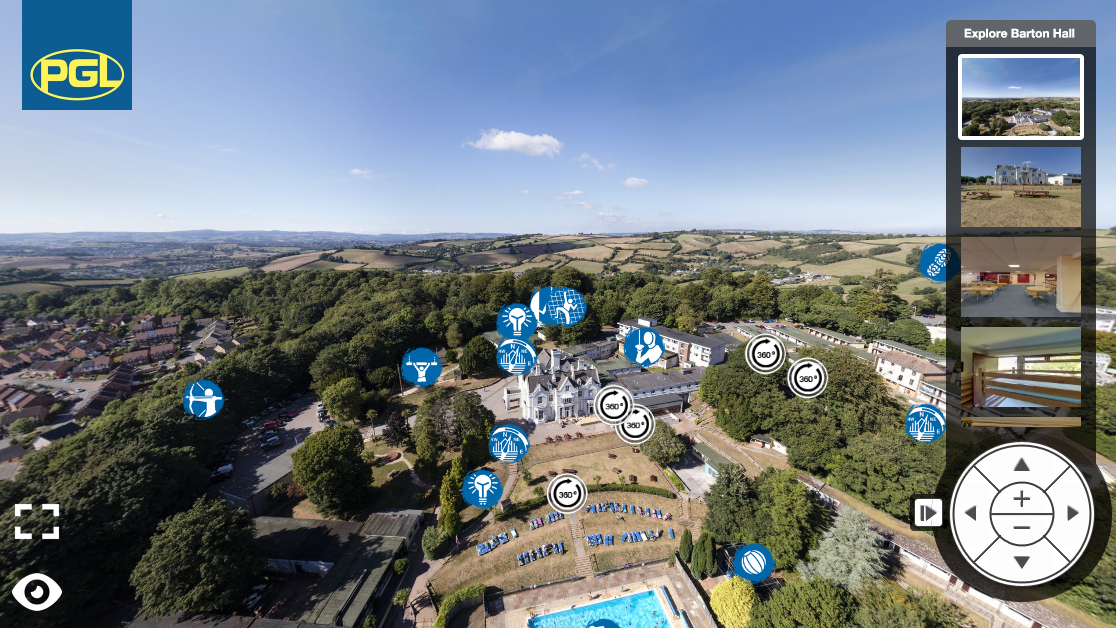 Experience our virtual tour of Barton Hall here.
*Please note that activities may differ slightly to those shown in the 360° view. Please refer to the 'Activities' section for a full list of activities available at each centre.
Get ready to try something amazing. Every day you'll experience an action-packed itinerary that lets you choose from more than 18 fun family activities, all carefully designed to challenge, exhilarate and teach you new skills. When evening finally comes around, it's time to relax, socialise and enjoy some precious time together.
Evening entertainment
Enjoying fun evening activities together as a family has always been part of our inclusive formula but even we recognise that some parents still want a bit of 'me' time too.
Therefore, we're introducing some optional new 'children only' evening activities into our programme, alongside our existing planned 'family' entertainment that you can do together.
Our team will supervise your children, who will spend their time with other children of similar ages doing organised activities, leaving you free to relax.
Select an activity for a full description
Eating together is an important part of any holiday and we know how tricky it can be to please everyone in the family. PGL Family Adventures include breakfast, lunch and dinner; making food one less thing for you to think about.

Breakfast, lunch and dinner will usually be served in the dining room, although at some centres there may be a barbeque on one evening during the week. We can cater for most diets (please let us know when you book), all meals will always include a vegetarian option.
For all holidays the first meal on arrival will be the evening meal. For guests on a seven night holiday, their last meal before departure will be breakfast. For guests on two, three and four night breaks the last meal will be lunch. Please ensure that you have advised us of any dietary requirements before the start of your holiday.
Our 'PGL BIG breakfast' – provides you with an improved selection of unlimited cooked and continental options.
Lighter tastier lunches – with a choice of daily specials, from fresh sandwiches which you can bespoke, to salads and soup.
Delicious 'family favourites' evening meals – with antipasti sharers and a bar drinks service available too. Relax, refuel and enjoy some quality family time, without needing to do the cooking or the washing up!
Tea, coffee and water will be available at all mealtimes. We also now offer a barista coffee bar and a wide choice of soft drinks, craft beers, ciders and wine (additional cost).
With the exception of Dalguise, all of our centres have an on-site bar for the use of family guests. (Please note: children will be asked to vacate the bar at 10pm). For Dalguise, refreshments are provided for you to enjoy in lounge areas, but centre staff will be able to advise you of nearby pubs and restaurants.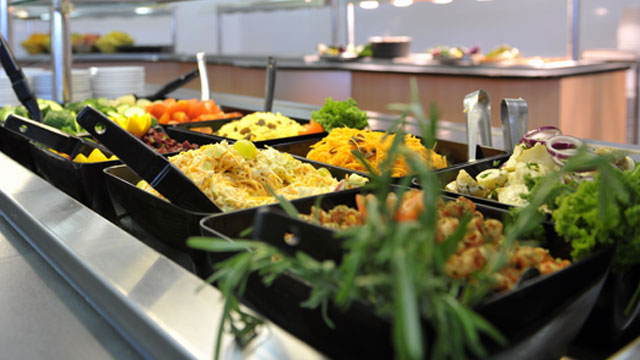 View our sample menus here.
Sample day at Barton Hall (Based on Classic Multi Activity holidays)

| Schedule | Activities |
| --- | --- |
| Breakfast | Wake up and head down to breakfast to fuel up for the day. Choose from a large range including a hot cooked breakfast, cereals, toast, yoghurts, porridge and a selection of drinks. Make sure to fill up your drinks bottle to take on to your first activity! |
| Session 1 | Giant Swing |
| Break | Take 10-15 minutes to have a break and get yourself a drink ready for the next session! |
| Session 2 | Orienteering |
| Lunch | Worked up an appetite? Replenish your energy at lunch! In the dining room you'll find nutritious hot and cold options with a great range to suit every taste and dietary requirement. If you have spare time after your lunch, relax with a hot drink ready for the afternoon ahead. |
| Session 3 | Flexi Session - unique to Barton Hall, choose to spend this session trying another planned activity, grab some extra time in the pool or relax with a Devon cream tea in the bar! |
| Break | A chance to reflect on all the activities you've done so far and prepare for the final activity of the day. |
| Session 4 | Jacobs Ladder |
| Dinner | Head to the dining room and enjoy dinner with your family. A different menu each day, often with a hot pudding or something lighter if preferred! |
| Evening Entertainment | Enjoy evening entertainment as a family or just send your children and get some 'me time'. With different entertainment each night from quizzes to talent shows, there's something for all the family to enjoy! |
| Relax | Head back to your room or to the bar to relax and wind down. Get a good night's sleep ready to do it all over again tomorrow! |
Please note this is a sample itinerary for illustrative purposes only. Itineraries will be planned by the centre shortly before your arrival.
Barton Hall situated in Devon on the outskirts of Torquay, takes 30 minutes from Exeter by car and 3 hours from Reading. If you're travelling by Public transport the nearest train station is Torre where you can jump on a local bus to take you right up to the centre.
Centre address
PGL Barton Hall
Kingkerswell Road
Torquay
TQ2 8JY
Shortcuts