Dalguise is set in spectacular Perthshire
It's a fantastic forested site overlooking the River Tay, at the heart of Perthshire's 'Big Tree Country'. Dalguise used to be the summer holiday home of Beatrix Potter - who knows which stories inspired!
The wildlife in this unspoilt area is also incredible and if you are lucky you may see the elusive red squirrel or even leaping salmon!
All guests sleep in the purpose-built lodges or our converted stable block in the grounds which have 4-10 beds and their own showers and toilets.

Most of the activities are on-site and are hidden within the woodlands all around the centre – making the most of the forest environment. Canoeing takes place on our brand new on-site lake and Dalguise also has a fantastic 'sports dome' which provides additional covered space so we can offer even more activities – whatever the Scottish weather provides!
The main building (which was once the summer home of Beatrix Potter) has great space for evening entertainment and many of her stories were said to be inspired by this idyllic location.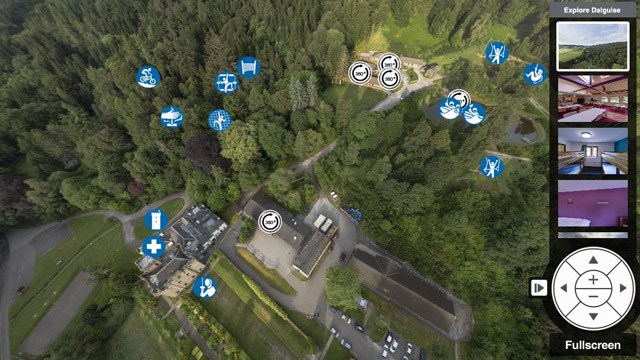 Experience our virtual tour of Dalguise here.
*Please note that activities may differ slightly to those shown in the 360° view. Please refer to the 'Activities' section for a full list of activities available at each centre.
Every day is different
We offer almost 40 different activities across all our centres and we pack in as many as possible on every PGL Adventure Holiday. Please note that not all activities are available at all centres; please see the list below for activities available at this centre.
Evening activities
The fun doesn't stop there! We also include fun-packed evening entertainment programmes at all our centres, every day, all year round, whichever holiday you choose.
Select an activity for a full description
Fuel for adventure
To keep your children energised for their active PGL break our catering teams work hard to produce a menu jam-packed with nutritious family-friendly favourites to suit all appetites. This year we have made some improvements to bring you our best menu yet! View our sample menu here.
The PGL breakfast - hot options, cereals, toast, yoghurts, pastries & more!
Lighter tastier lunches - a pit-stop to prepare for a busy afternoon. Refuel with fresh sandwiches, soups, pasta or salads.
Delicious 'kids favourites' evening meals - crowd pleasing classics such as fish & chips, roast dinners and bangers & mash.
Our buffet style dining room means that children can 'mix and match' the items they love most and have unlimited access to our salad bar and fresh fruit. Our Group leaders are on hand to help and will look out for anyone who can't find anything on the menu that they enjoy. If necessary our catering teams will be more than happy to prepare something special.
Allergies, intolerances and other dietary requirements
A vegetarian alternative can always be provided on all our holidays, and we can accommodate most special diets required on medical or religious grounds, just let us know when you book.
Keeping hydrated
Water, squash, tea and coffee are available with all meals and children are encouraged to refill their water bottles for regular use throughout the day. There are also water fountains available around the centre.
Sample day at Dalguise (based on 7 night Multi Activity holiday)
Typical timings
Activities
07:00
Your Group Leader will wake you up so that you can get up and get ready for the day ahead.
08:00
Off to the dining room with the rest of your group to fuel up for the day, you'll need plenty of energy to keep you going. Breakfast includes cereals, toast, yogurts, porridge, and cooked breakfast – you choose!
Don't forget to refill your drinks bottle before you head off to your first activity.
09:15
Session 1
Abseiling
10:45
Break. Catch your breath and have a quick drink before your next session.
11:00
Session 2
Archery
12:30-14:00
Worked up an appetite? Great – it's time to replenish your energy stores with the dining room. If you have energy to spare after lunch your Group Leader will always be ready for a quick kickabout with a ball or you could relax and chat with your new friends.
14:15
Session 3
Canoeing
15:45-16:00
A chance for a breather and a drink before your Groupie takes you to your next activity.
16:00
Session 4
Giant Swing
18:00
Time to eat again – a different menu each day (and did we mention, often evening meals come with a hot pudding too – or you can stick with fruit if you prefer).
19:00
Talent shows, campfires, quizzes and much more – your evening entertainment programme gives you the chance to get together with everyone else in your age group and have some laughs.
21:00-22:30
Bedtime. The younger ones go first whilst older groups have time to chill out and chat or watch a DVD. Then it's lights out and time to sleep ready to do it all over again tomorrow!
Please note this is a sample itinerary for illustrative purposes only. Itineraries will be planned by the centre shortly before your arrival.
Search for Holidays
It has never been easier for your child to experience a PGL Adventure Holiday. Select the options below to find the perfect fit for you and your child:
Please select at least one child's age in order to search. You can select multiple ages if you are searching for more than one child. Your search results will only display holidays for the ages selected.
We will search for departures 7 days either side of the day specified. If we can find no results we find the nearest available dates within 10 weeks either side of the day specified. PGL Adventure Holidays operate during the school holiday periods, please note that dates and holidays may vary at each centre. - February half term - Skiing and Snowboarding in February half term - Easter - May half term - July and August summer holidays - October half term
Centre address
PGL Dalguise
Dalguise
Dunkeld
Perthshire
PH8 0JX

Get in touch
Shortcuts