Surfing
Exclusive to Beam House, Devon - three days of Surfing + three days of Multi Activity
Surf's up! Take on the challenges that the sea throws at you on our Surfing Camp - we'll have you catching waves in no time!
Our awesome Surf Camp instructors will make sure you cover all the surfing basics – paddling out, catching, riding and leaving a wave. Before you know it you'll be getting up and riding, and we promise you'll never forget the feeling you get when you catch your first wave! The beach is really close to our centre so the surf is just a short coach ride away. Book now for your surfing adventure!
Can I do other activities as well?
Yes, as well as three days of surfing, your holiday will include activities from the residential centre's brilliant multi-activity programme and different evening entertainment each night.
Is previous experience required?
No, you don't need any experience to dive into our Surf Camps, although you will need to be able to swim at least 50 metres and be confident in the water.
Do I need any specialist equipment?
You don't need to bring anything special; we will send you a kit list before you travel and apart from that we will provide everything you need including boards and wetsuits.
Ps - to create the best camp experience for kids attending occasionally we will combine adjacent age groups on selected activity sessions. This does not include rooming or pastoral groups. During off-site activities in public areas children will be escorted by a member of our PGL team at all times.
NOTE - For the safety of guests occasionally watersports activities need to be cancelled or postponed due to weather or tide conditions. In this instance our team will endeavour to provide alternative activities and reschedule any missed sessions where possible. We regret that within a set holiday period in exceptional weather circumstances this may not always be possible.
Browse all of our Watersports camps here.
Every day is different
During your week long camp you'll spend as much time at the beach as possible, along with getting to enjoy a selection of our classic PGL Multi Activities back at Beam House. Please note that not all activities are available at all centres; please see the specific centre pages for more information.
Evening activities - the fun doesn't stop there!
We also include fun-packed evening activities programmes at all our centres, every day, all year round, whichever holiday you choose.
Select an activity for a full description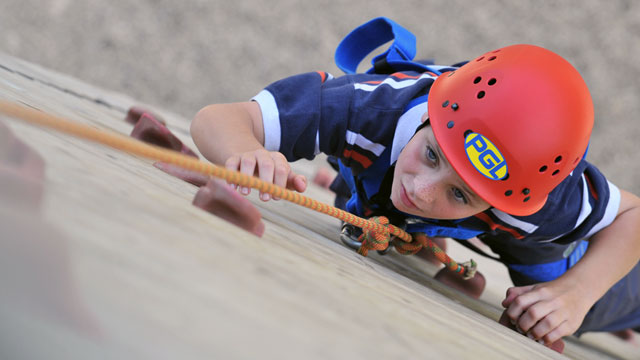 Sample week on Surfing

| Schedule | Activities |
| --- | --- |
| Saturday | Arrive between 3-5pm for your first meal at dinner time. Get to know your new camp-mates during evening activities with your PGL groupie! |
| Sunday | Full day of Multi-Activities at Beam House. |
| Monday | Half day Surfing at Westward Ho! Half day PGL Multi-Activities |
| Tuesday | Half day Surfing at Westward Ho! Half day PGL Multi-Activities |
| Wednesday | Half day Surfing at Westward Ho! Half day PGL Multi-Activities |
| Thursday | Half day Surfing at Westward Ho! Half day PGL Multi-Activities |
| Friday | Full day on the beach - hone all of the skills learnt throughout your week of Surfing coaching. |
| Saturday | Last breakfast with your new friends before collection between 9-11am. See you for your next adventure soon! |
All of our Kids' Adventure Camps include breakfast, lunch and dinner - you can find dietary information and sample menus here.
The itinerary above gives a really great idea of what to expect on your Specialist Kids' Camp. Very occasionally we may have to rearrange activities due to weather or staffing, however wherever possible our team will reschedule or replace with like for like options during your stay.
Search for Holidays
It has never been easier for your child to experience a PGL Adventure Holiday. Select the options below to find the perfect fit for you and your child:
Please select at least one child's age in order to search. You can select multiple ages if you are searching for more than one child. Your search results will only display holidays for the ages selected.
We will search for departures 7 days either side of the day specified. If we can find no results we find the nearest available dates within 10 weeks either side of the day specified. PGL Adventure Holidays operate during the school holiday periods, please note that dates and holidays may vary at each centre. - February half term - Skiing and Snowboarding in February half term - Easter - May half term - July and August summer holidays - October half term

Get in touch