1st child full price, 2nd child half price and the third FREE!*
There's nothing more thrilling than sharing great times with friends. That's why we've made it easier than ever for more friends and family to enjoy the benefits of a PGL Adventure Holiday, with our exclusive '1, 2, FREE*' offer!
All you need is three children. You can book each of them on different seven night holidays, on completely different dates if you wish. Your outgoing youngest visiting for the first time might like our Multi Activity 'First Timer' holiday, your courageous middle child may prefer Adrenaline Adventure and your independent eldest might enjoy our Mediterranean Watersports. The choice is yours!
It's as easy as 1, 2, FREE*; one child comes at full price, a second is half price and the third comes FREE!*. This is the only time of year that you will see this fantastic offer!
Offer ends Friday 20th March 2020.
To book your 1, 2, FREE* places now simply call us on 0333 321 2114 and quote the offer code TZ30X.
Is the 1, 2, FREE* offer available on any holiday?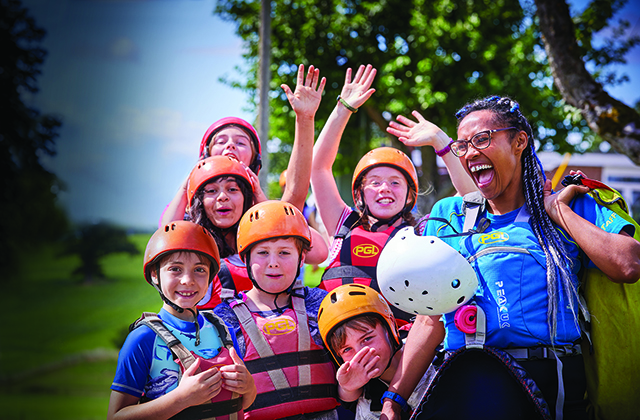 Any holidays of seven nights or more in 2020, including our Specialist and French holidays. Your children don't even need to visit us during the same week, although it's a great opportunity for friends and family to have fun together.
Which holidays will you choose?
View our huge choice of adventures here!
*Applies only to holidays where PGL insurance is also purchased at an additional charge - see terms and conditions below.
How does the pricing work?
It's easy! Choose your three holidays and the most expensive is charged at full price, the second holiday is then half price and the cheapest one is FREE!*
Example pricing:
First child chooses Mediterranean Watersports in France – you pay full brochure price: £869
Second child chooses Adrenaline Adventure at Boreatton Park – you pay half the brochure price: £745 £372.50
Third child chooses the Multi Activity First Timer holiday at Marchants Hill – £669

it's FREE!*
Total price of holidays using 1, 2, FREE* offer = £1241.50 (PGL Insurance must be booked with all offers) a saving of £1041.50!
How to book
Once you have found the three perfect adventures for your children simply call one of our friendly Holiday Consultants on the number below to make the most of this fantastic offer! Don't forget to quote the offer code TZ30X.
We get to know many PGL parents and children well and look forward to speaking to them several times a year. So please give us a call. We'd love to hear from you.
Call us on:
To view our latest opening times please click here.

Email: holidays@pgl.co.uk
*Terms and Conditions
*Terms and conditions: For UK holidays, all passengers must take PGL insurance to qualify for 1, 2, FREE offer - see prices below. Escorted travel, excursions or any other optional extras, including travel supplements for French Holidays from Manchester (£57) and Birmingham (£45) will be charged at the full rate for each passenger. This offer is applicable to children aged 7 - 17 on any seven night (and over) holiday as featured in the PGL 2020 Adventure Holidays brochure. The most expensive holiday will be charged at the full rate with the cheapest holiday being free. Offer subject to availability. This offer requires a minimum of three different children booking at the same time, on the same booking. This can also be applied for each additional multiple of three children made on the same booking at the same time. The same child cannot be booked onto more than one holiday within each multiple of three holidays. This discount is offered in conjunction with the general terms and conditions in the PGL 2020 Adventure Holidays brochure. Bookings are non-transferable and offer may not be used in conjunction with any other offer or discount or applied retrospectively. Full payment must be made at the time of booking. Telephone bookings only. 2020 Insurance prices UK holidays (7 nights) - £37 UK residents, £49 EU residents, £63 outside EU. French holidays - £44 UK residents, £58 EU residents, £68 outside the EU. This offer ends Friday 20th March 2020.
Search for Holidays
It has never been easier for your child to experience a PGL Adventure Holiday. Select the options below to find the perfect fit for you and your child:
Please select at least one child's age in order to search. You can select multiple ages if you are searching for more than one child. Your search results will only display holidays for the ages selected.
We will search for departures 7 days either side of the day specified. If we can find no results we find the nearest available dates within 10 weeks either side of the day specified. PGL Adventure Holidays operate during the school holiday periods, please note that dates and holidays may vary at each centre. - February half term - Skiing and Snowboarding in February half term - Easter - May half term - July and August summer holidays - October half term

Get in touch
Call us on 0333 321 2114
Shortcuts