Multi-Activity
for Brownies and Guides
Fun, exhilaration and achievement
Adventure, excitement, teamwork and fun; it's what Girlguiding is all about. It's also what PGL adventure weekends are all about.
Our Multi-Activity courses are packed full of challenging, exciting and fun outdoor adventure activities.
Each day brings new challenges to motivate and energise young people.
We believe each girl deserves to get the maximum benefit from her course, so we've built more zip wires, more giant swings; more climbing towers; in short, more of the activities we know your Brownies or Guides will love. That means more opportunities to push limits, reach further and achieve more.
But it doesn't stop there.
There's a tailored-to-you evening programme to round off your action-packed day.
Whether it's 'Wacky Races', 'Campfire or 'Harry Spotter', our lively activities are guaranteed to entertain you and your group.
Or take the time to update diaries, do some badgework – the choice is entirely yours.
It's good to know that at the end of your stay your group will return home with memories of a great trip. A trip that made a difference.

Get in Touch
Call us on 0333 321 2116
Shortcuts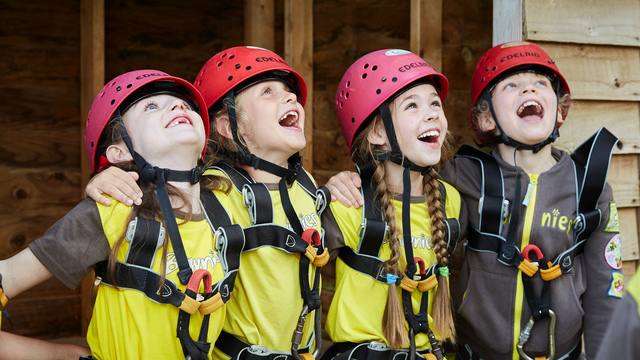 Developed in partnership with Girlguiding, these popular weekends just for Brownies are packed with adventure activities, from climbing and abseiling to giant swing and zip wire.