The adventure starts here...
Thank you for wanting to find out more about us!
We love what we do and we want your child to experience all the excitement and benefits that our adventure holidays offer - gaining independence, confidence and meeting new friends, trying new activities in the place that we think matters most – the great outdoors.
We're delighted to give you our fantastic introductory offers to help make taking your first step with us, even easier.
Currently due to the Covid-19 pandemic our holidays are not operating throughout April and May, however we are hopeful that we will be back up and running for the summer! If you would like to make a booking now in preparation, then please be assured that if the situation were to change, meaning that we were unable to run summer holidays, we would of course offer you a suitable alternative holiday at a later date, or a credit to the value of your booking in our holding account - to make sure you don't lose out!
The special offers below include whopping savings of up to 50% OFF* a huge selection of our famous Multi Activity holidays, including our unique First Timer weeks! You can also enjoy up to 40% across all our other holidays*
To take advantage of these offers, check out the details below, choose your holiday and scroll to the bottom of the page to book, not forgetting to enter your exclusive offer code: SAVE50PGL.
If you are having trouble making your booking online, or would like to ask any questions then please feel free to email our team at holidays@pgl.co.uk.
We can't wait to welcome you later in 2020!
50% OFF all summer First Timer Weeks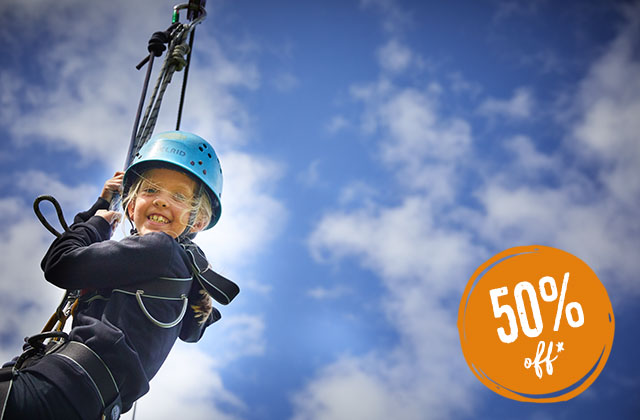 New to PGL?
Great! We're offering 50% OFF* all our unique First Timer Multi Activity holidays. Enjoy a full week of classic PGL multi activities - exclusively for first-timers this summer!
Hurry, these holidays sell out fast!
40% OFF a huge choice of 7 night Multi Activity holidays this summer!*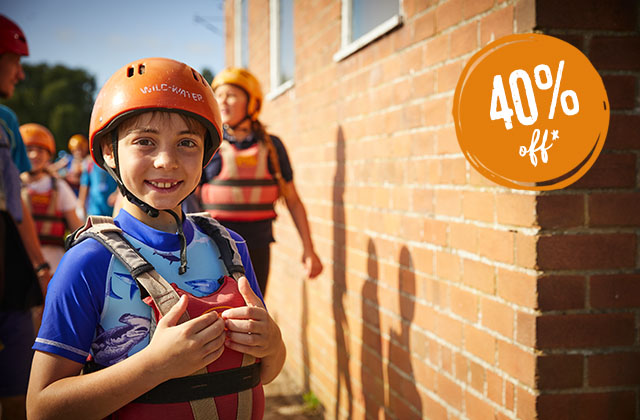 We've got 40% off all 7 night Multi Activity holidays in 2020.
That's huge choice of dates and holidays!
30%* OFF all other Multi Activity holidays in 2020!*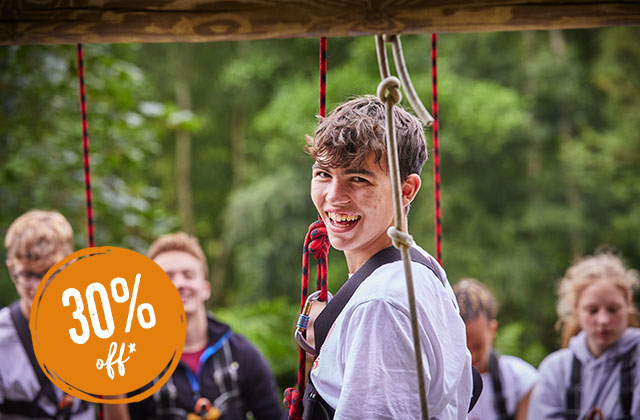 Looking for something not included above?
We're open for every main school holiday and with your introductory offer you can enjoy 30% off any 3, 4 or 7 night UK Multi Activity holidays or our brilliant 3 day/2 night 'Introductory Adventures' at any time in 2020.
How's that for choice?
20% OFF ALL Specialist holidays!*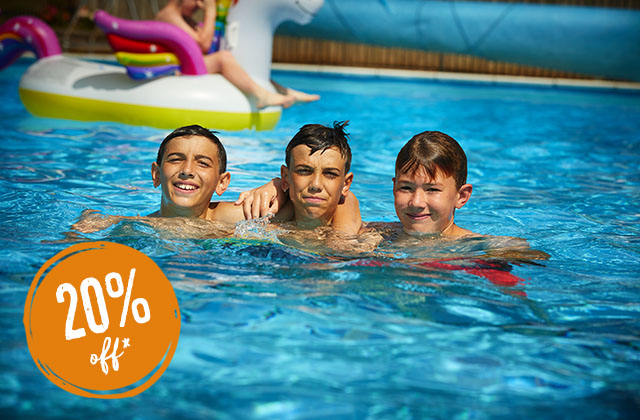 Fancy trying an adventure with something a little extra this summer?
There's 20% OFF* all our Specialist holidays in 2020.
We have an amazing array of nearly 20 different holidays that offer so much - a fresh challenge, a new hobby, learning new skills, foreign travel and more - something that's a step up from the norm.
How to book
Please note - How to contact us has changed see contact us
Once you've found the perfect adventure included in the special offers above, there are 3 easy ways to book:
Option 1) Simply click on your holiday of choice and scroll to the bottom of the holiday page, where you will find the booking options. Don't forget to enter your offer code: SAVE50PGL
Option 2) Use the search boxes located on each page (or simply click on the link below) and use the search options to find your chosen holiday at the specific centre.
Option 3) If you'd prefer to speak to someone on the phone, our Holiday Consultants are second to none and are on hand to book the perfect holiday for your child . Most are parents and know our centres well, so are best placed to answer any questions you may have.
Call us on:
View our latest opening times here.
Email: holidays@pgl.co.uk
*Terms and conditions:
All passengers must take PGL insurance to qualify for UK holidays offers (2020 Insurance prices: (7/4/3 nights) £37/£28/£20 UK residents, £49/£33/£26 EU residents, £63/£43/£32 outside EU. Introductory Adventures £12 UK residents £18 EU residents. French holidays - £44 UK residents, £58 EU residents, £68 outside the EU). All offers are subject to availability and only apply when using special offer code listed above. Offers apply only to holidays and dates as listed above. Offer can only be used by the individual listed on this letter who has requested our 2020 brochure. PGL insurance, escorted travel, excursions and any other additional extras to the holiday itself, including travel supplements for French Holidays from Manchester (£57) and Birmingham (£46) will be charged at the full rate for each passenger. Max one discount per holiday. Offers cannot be used in conjunction with any other offer, discount or holiday not shown here and cannot be applied retrospectively to existing bookings. Advertised savings are against the prices shown in our 2020 brochure. Booking discounts are offered in conjunction with our general terms and conditions, which can be viewed online or provided on request. Full payment must be made at the time of booking. Closing date for offers is 31st December 2020.
Search for Holidays
It has never been easier for your child to experience a PGL Adventure Holiday. Select the options below to find the perfect fit for you and your child:
Please select at least one child's age in order to search. You can select multiple ages if you are searching for more than one child. Your search results will only display holidays for the ages selected.
We will search for departures 7 days either side of the day specified. If we can find no results we find the nearest available dates within 10 weeks either side of the day specified. PGL Adventure Holidays operate during the school holiday periods, please note that dates and holidays may vary at each centre. - February half term - Skiing and Snowboarding in February half term - Easter - May half term - July and August summer holidays - October half term
Shortcuts