Château de Grande Romaine + Domaine de Segries
Paris and the Ardèche
Enjoy the best of all worlds by combining a city break, exciting activities on the world famous Ardèche river and a family day out to Disneyland® Paris.
Château de Grande Romaine
This stunning Château is set in 70 acres of grounds, with tennis courts, a basketball court, football pitch and outdoor heated swimming pool (open May-September). The centre is set just 20 miles from the centre of Paris, this makes it the perfect base to travel into the city and go sightseeing with a Seine River cruise! Plus, Disneyland® Paris is only a 30 minute drive away! Throw yourself into the wide range of activities on centre or relax in the lounge or by the pool.
Domaine de Segries
This superb, laid-back centre is located near Vallon Pont d'Arc and is set in 20 acres of wooded grounds, close to the Ardèche River, in the heart of southern France. With a whole range of activities on site and the river close by, this is a great centre to experience all the fun of a French Adventure!


We regret that due to the Coronavirus pandemic we have been unable to operate our French Family Adventures recently. We will update this information when we have further clarity on overseas travel and operation in 2022.
Château de Grande Romaine
Whilst staying at Château de Grande Romaine for the first part of your Ultimate Adventure, your family will sleep in our newly built or recently refurbished buildings in the grounds of the château.
Rooms are simple and comfortable with en-suite bathrooms. Adults are in twin rooms and up to four children adjacent in their own room. Alternatively, bunk bedded family rooms sleep up to six people; particularly popular if you have younger children.
Swimming pool open May-September during set times.
Domaine de Segries
For the second part of the Ultimate Adventure at Domaine de Segries, you will sleep in the tented villages nestled within the wooded grounds based around the central farmhouse. All of the tents have raised, properly framed beds with mattresses* and shower blocks are located nearby. Families of three or less will share one tent, families of four or more will share two adjacent tents.

*You will need to bring your own bedding and sleeping bags.

Château de Grande Romaine
The Château has extensive on-site activities including floodlit basketball courts, full-size football pitch, mini floodlit football court and pitch, tennis courts, volleyball court and activity bases.
There are also fantastic facilities including a disco, outdoor heated swimming pool*, pool bar, spacious dining room, lounge, wifi access and tuck shop.
*Open May-September – daily opening times 07.00 - 08.00 and 15.00 - 18.30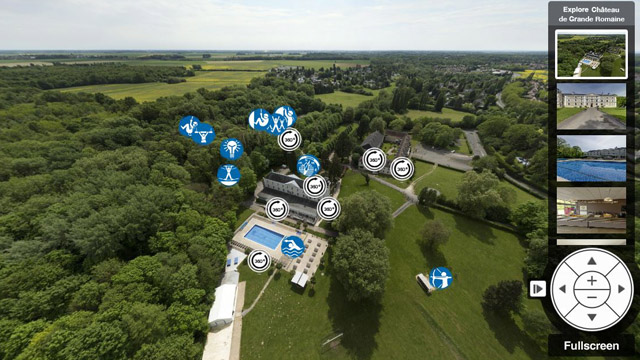 Experience our virtual tour of Château de Grande Romaine here.
*Please note that activities may differ slightly to those shown in the 360° view. Please refer to the 'Activities' section for a full list of activities available at each centre.
Domaine de Segries
When you're not paddling down the beautiful Ardèche River, back at Domaine de Segries there is a whole host of activities from the original Multi Activity programme for your family to have a go at. There's a huge Jacob's ladder, trapeze pole and traverse elements (an amazing sky high ropes course), sports pitches as well as tracks for mountain biking! Plus, there are plenty of areas to relax and unwind in the evenings including the bar and disco room with outdoor seating near the pool.
Highlights:
Fantastic canoe descent of the renowned Ardèche Gorge
Relaxed private centre with outdoor pool
Beautiful local area to explore
Time together
Eating together is an important part of any Family holiday and we know how tricky it can be to please everyone in the family. PGL Family Adventures include breakfast, lunch and dinner; making food one less thing for you to think about.
Disneyland® & Paris sightseeing excursions
Guests who are visiting Disneyland® or Paris as part of their holiday will be able to take a packed lunch, which are available to self-serve at breakfast time. These will consist of a filled baguette (or salad box), bottled water, biscuits and crisps.
Please note that the evening meal is served at a set time, which will be displayed on your itinerary (provided on arrival). Therefore anyone opting to remain at Disneyland for the illuminations (approx. 11pm in the Summer) we recommend that you pre-book a table at one of the Disney restaurants. These can range from fast food to 'all you can eat' buffets or Disney themed meals with the characters. A list of restaurants with sample menus and prices can be seen on the 'Dining' pages of the Disneyland® Resort Paris website. Anyone who does not wish to dine at Disneyland is more than welcome to prepare a second packed lunch to take with them.
Something for everyone
We source fresh regional produce whenever we can and you'll always find a good selection of seasonal fresh fruit and vegetables on offer every day. The menu will always include a vegetarian option and we will try to provide a taste of local cuisine whenever possible. We aim to provide a balance of food which is familiar but also gives guests the opportunity to try food influenced by the area they are visiting. A range of salads is available at lunch and dinner time and fresh fruit is available at every meal.
Our Group leaders are on hand to help and will look out for anyone who can't find anything on the menu that they enjoy. If necessary our catering teams will be more than happy to prepare something special.
Allergies, intolerances and other dietary requirements
A vegetarian alternative can always be provided on all our holidays, and we can accommodate most special diets required on medical or religious grounds, just let us know when you book.
Drinks
Hot drinks, squash and water are available with meals and in France a glass of wine will be included with your evening meal. There are also water fountains available around the centre.
A dining room with a difference...
Meals will usually be served in the dining room, although at some centres there may be a barbeque on one evening.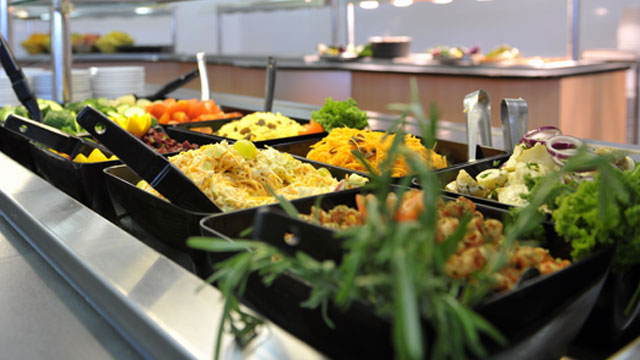 Sample day of multi activities at Château de Grande Romaine

| Schedule | Activities |
| --- | --- |
| Breakfast | Wake up and head down to breakfast to fuel up for the day. Choose from a large range including a hot cooked breakfast, cereals, toast, yoghurts, porridge and a selection of drinks. Make sure to fill up your drinks bottle to take on to your first activity! |
| Session 1 | Archery |
| Break | Take 10-15 minutes to have a break and get yourself a drink ready for the next session! |
| Session 2 | Family Challenge |
| Lunch | Worked up an appetite? Replenish your energy at lunch! In the dining room you'll find nutritious hot and cold options with a great range to suit every taste and dietary requirement. If you have spare time after your lunch, relax with a hot drink ready for the afternoon ahead. |
| Session 3 | Trapeze |
| Break | A chance to reflect on all the activities you've done so far and prepare for the final activity of the day. |
| Session 4 | Zip Wire |
| Dinner | Head to the dining room and enjoy dinner with your family. A different menu each day, often with a hot pudding or something lighter if preferred! |
| Evening Entertainment | Enjoy evening entertainment as a family or just send your children and get some 'me time'. With different entertainment each night from quizzes to talent shows, there's something for all the family to enjoy! |
| Relax | Head back to your room or to the bar to relax and wind down. Get a good night's sleep ready to do it all over again tomorrow! |
Please note this is a sample itinerary for illustrative purposes only. Itineraries will be planned by the centre shortly before your arrival.
Make sure you check out our Special Offers page here!
We regret that due to the Coronavirus pandemic we will now not be able to operate any of our French Family Adventures in 2021. We are working on plans for our French centres to reopen for next season, but in the meantime our UK holidays are resuming from May 28th and we hope to welcome you and your family to enjoy some exciting British adventures this year instead.
Please note the below dates and prices are not live. For live availability please email our team on families@pgl.co.uk or call us on 0333 321 2114.
There are different options available for travelling to Château de Grande Romaine:
Self drive option**. Calais ferry port is approx three and a half hours drive away.
Coach travel option (7 night Disneyland® and Paris only, includes travel to and from centre and local transfers to and from Disneyland® Resort and Paris for sightseeing). Pick up points in Manchester, Birmingham, London and Dover.
Arriving by air or Eurostar? We advise that you hire a car as the Château is not directly served by public transport.
Nearest airport/Eurostar (approx.drive time): Charles de Gaulle and Orly 60 minutes/Gare du Nord 45 minutes.
**Please note, on all holidays except coach travel holidays, travel to, from and between our centres and local transfers, including to and from Disneyland® Paris are not included. We provide a coach to and from Paris with a PGL courier on the sightseeing day to Paris.
Guide prices for local Disneyland® Paris costs for self drive holidays:
Guide price (based on 2019 average prices) for 4 person taxi to or from Disneyland® Paris (one way) 85 Euros.
Guide price for self drive parking at Disneyland® Paris per car, per day, 30 Euros.
Centre address
PGL Chateau de Grande Romaine
Lesigny
77150 ile-de-France
France

PGL Domaine de Segries
07150 Vagnas
France

Get in Touch
Shortcuts