Family Adventures at Domaine de Segries
Ardèche
Experience the exhilarating three-day canoe descent of the world famous Ardèche river in the south of France and enjoy the activities and local attractions at our lovely centre.
Tackle the dramatic three-day descent of the Ardèche River and enjoy the activities on-site.
Stay at Domaine de Segries and paddle your way through the stunning deep gorges of the Ardèche and get up close to the famous Pont d'Arc, a 60m high natural rock arch. Plus, the descent includes thrilling white water rapids.
During your time on the river you will stop for leisurely picnic lunches and have time to enjoy a swim. At the end of each day we'll return you, via coach, to your accommodation.
This superb, laid-back centre is located near Vallon Pont d'Arc and is set in 20 acres of wooded grounds, close to the Ardèche River, in the heart of southern France.
This relaxed, woodland centre offers three types of accommodation. Two bedroomed chalets with a small lounge/ kitchen area and bathroom. Or smaller, simpler single roomed chalets with four bunk beds and an en-suite bathroom.
Please note: For tents and our smaller chalets, families of four or less share one tent/ chalet, families of five or more share two adjacent tents/chalets.
When you're not paddling down the beautiful Ardèche River, back at Domaine de Segries there is a whole host of activities from the original Multi Activity programme for your family to have a go at. There's a huge Jacob's ladder, trapeze pole and traverse elements (an amazing sky high ropes course) and sports pitches! Plus, there are plenty of areas to relax and unwind in the evenings including the bar and disco room with outdoor seating near the pool.
Highlights:
Fantastic canoe descent of the renowned Ardèche Gorge
Relaxed private centre with outdoor pool
Beautiful local area to explore
Time together
Eating together is an important part of any Family holiday and we know how tricky it can be to please everyone in the family. PGL Family Adventures include breakfast, lunch and dinner; making food one less thing for you to think about.
Something for everyone
We source fresh regional produce whenever we can and you'll always find a good selection of seasonal fresh fruit and vegetables on offer every day. The menu will always include a vegetarian option and we will try to provide a taste of local cuisine whenever possible. We aim to provide a balance of food which is familiar but also gives guests the opportunity to try food influenced by the area they are visiting. A range of salads is available at lunch and dinner time and fresh fruit is available at every meal.
Our Group leaders are on hand to help and will look out for anyone who can't find anything on the menu that they enjoy. If necessary our catering teams will be more than happy to prepare something special.
Allergies, intolerances and other dietary requirements
A vegetarian alternative can always be provided on all our holidays, and we can accommodate most special diets required on medical or religious grounds, just let us know when you book.
Drinks
Hot drinks, squah and water are available with meals and in France a glass of wine will be included with your evening meal. There are also water fountains available around the centre.
A dining room with a difference...
Meals will usually be served in the dining room, although at some centres there may be a barbeque on one evening. Guests bivouacking over night in the Ardèche Gorge will enjoy a meal prepared by our staff in the outdoor cooking area at the campsite and if you are out and about enjoying an excursion at lunchtime then our catering team will provide a delicious packed lunch for you to take with you.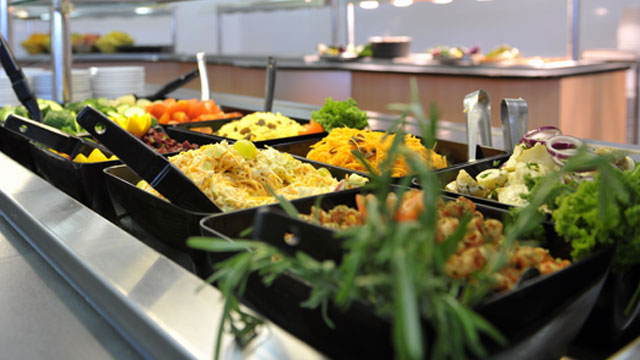 Sample Ride the Ardèche Itinerary (based on 7nts)
Schedule
Activities
Day 1
PM Arrive
Day 2
All day introduction to canoeing and begin Ardèche descent (first 4km)
Day 3
AM Swimming
PM Jacob's Ladder/ Trapeze
Day 4
All day kayaking
Day 5
Free day to relax/ explore the local area
Day 6
All day Ardèche descent (12km)
Day 7
All day Ardèche descent (16km)
Day 8
AM Depart
Please note this is a sample itinerary for illustrative purposes only. Itineraries will be planned by the centre shortly before your arrival.
For sample itineraries of each holiday available at Domaine de Segries, please see the individual holiday pages which can be found at the bottom of this page.
We often have some fantastic special offers on our family holidays! Take a look at what's on offer here.
Ride the Ardèche Rapids holiday
Duration/Dates
Accommodation
Adult price
Child price (7-18)
7 nights (Mon-Mon)/
05/08, 12/08
Chalets A


(Two bedroomed chalet with en-suite, small lounge and kitchen area)

£699
£589
7 nights (Mon-Mon)/
12/08
Chalets B


(Single roomed chalet with en-suite)

£649
£549
There are numerous options available for travelling to Domaine de Segries:
Our holidays are self drive (ferry travel not included).
Calais ferry port is approx. 9 hours drive away.
Arriving by air? We advise you to hire a car for the duration of your holiday. Approx. Driving distance from nearest airports: Nimes 1.5 hours, Montpellier 2 hours, Lyon 3 hours.