Why PGL?
Recent reviews and recommendations
Daily Mail 2018
03/02/2018: Great feature in the Daily Mail Online

Nick Enoch enjoyed a PGL Family Adventure at Barton Hall with his wife and three girls. Here's sample of what he said:
"Standing next to a 40ft drop, I prepare to abseil for the first time ever. Any second now... Ten minutes later, I'm still preparing to abseil for the first time ever. I grit my teeth and try to imagine I'm SAS. It doesn't work. Ultimately, it's the sound of my excited children below shouting 'Do it! Do it!' that gives me the kick up my safety-harnessed backside I need - and over I go, arthritic hips and all. I'm on a Family Adventure holiday at PGL in Torquay, Devon, for the week with my wife and three daughters (aged eight, ten and 11). And it's all about fun and fear - embracing the former and conquering the latter"
Here's a shortcut to our Barton Hall centre click here
Here's the link to Nick's full article click here
Don't just take our word for it..
If you're like us, you like to do your homework when planning a holiday and it's good to see what others think.
That's why we've tried to pull together any recent articles by respected websites, newspapers, bloggers and others here, so you can see what others say about us.
We don't do a lot of advertising - we think what we do speaks for itself. Most of our customers come from word of mouth and recommendation. It's a winning formula that has made us what we are today and we hope you want to join us too.
Sunday Times Top 100 holidays 2017
15/01/2017: We made it into the Sunday Times Top 100 holidays for 2017!

We were delighted that the Sunday Times chose our 'Ride the Ardeche Rapids' at number 55 in their Top 100 Holidays of 2017 feature on the 15th January. It's been a real gem in our line-up for many years now and really is one of those 'must do' holidays to put on your list. Here's what they said:
"The shallow, fast-moving River Ardeche is Europe's premier natural water park, and PGL offers a superb-value family activity holiday here, based around a 20-mile descent in Canadian canoes. Aimed at kids aged 7 and up, the journey starts with an easy three-miler. Then there's a day of mountain-biking and ropework, followed by a full day of kayaking. You get day five off - go see the three-tiered Roman Pont du Gard or cycle to the Friday food market in Barjac. Then comes D-day: the descent of the Ardeche, continuing the following day through the rapids to Sauze. There are departures on August 7 and 14; prices start at £579 for adults and £479 for kids, with one child staying free (code JAN47)"
Here's a shortcut to all the holiday details click here
Unfortunately you can only access their full online feature if you have a paid subscription. Here's the link to it, if that's you! click here
101 Family Holidays
01/01/2017: 101 Family Holidays recommend PGL Family Adventures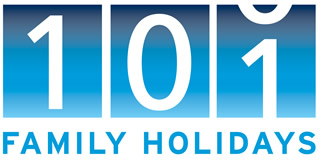 Here's what Mark Frary, Editor at 101 Family Holidays says about us:
"PGL has been part of our family life since both our older kids went with their school. These adventure holidays and summer camps are all smiles from start to finish. Kids try out new activities, while parents get peace of mind knowing that everything is taken care of by professionals. Safety is first and foremost, with fun a close second"
Here's the link to their website click here
Telegraph Summer Family Holidays
04/05/2016: We featured in the Telegraph's 'A complete guide to your family's holiday options this summer'

It was great to be featured by the Telegraph as part of a round up of the best family holiday options.
Here's the link to the article click here
The Independent
12/02/2016: The Independent's Tim Lott overcame his self-confessed 'bourgeois prejudices' and came out loving his holiday at PGL Barton Hall

We love nothing better than a really honest reviewer and Tim Lott gives a 'warts and all' review of his time with his family at Barton Hall. After his admitted trepidation at the beginning, read on to discover how he and his family discovered what makes our holidays so unique and how his daughter 'cried at the end because she didn't want to go home'
Here's the link to the article click here

Get in Touch
Shortcuts