Disneyland®
Adventure

7 night holiday (own travel)
Two days at Disneyland® Paris
Full Multi Activity Programme
Evening Entertainment
Experience the magic of Disneyland® plus the excitement of an adventure holiday all in one week!
A fantastic 7 night Disneyland® Adventure, combining amazing adventure activities with two days out to Disneyland® Resort Paris!
Tailored to suit families of all types, there's something for everyone to enjoy on this extra special week long adventure!
Between trying out all of our amazing activities from our original Multi Activity programme, take two days out with your family to visit the magical Disneyland® Resort Paris.
This 7 night adventure offers fantastic value for money and is full to the brim of exciting activities! Plus, you'll be staying at our beautiful Château de Grande Romaine which offers an authentic french experience and relaxed atmosphere to unwind after all the excitement each day has to offer.
Each day is packed full of family fun!
Not only will you get to spend two days at Disneyland® Resort Paris, when you're back at the Château, we plan a programme for you to make the most of every moment and provide a mix that has something for everyone in your family, no matter what their tastes, preferences or previous experience.
Evening activities
We also include evening entertainment programmes at all our centres, every day, all year round, whichever holiday you choose.
Here is an example of the full range of exhilarating activities that are available at Château de Grande Romaine.
Select an activity for a full description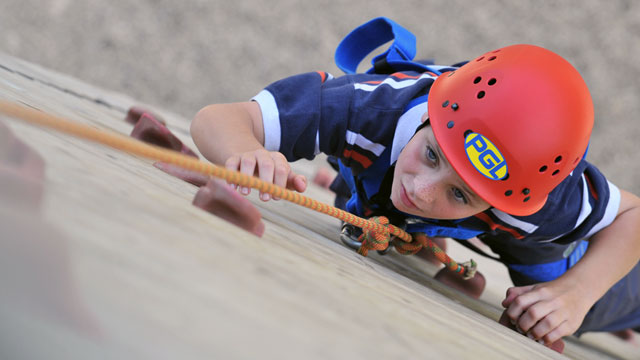 Disneyland® Adventure
Schedule
Activities
Day 1
Arrive at Château de Grande Romaine PM
Day 2
AM Abseiling
PM Orienteering
Day 3
AM Archery
PM Climbing
Day 4
Full day of magic at Disneyland® Paris
Day 5
Full day of magic at Disneyland® Paris
Day 6
Free day to explore the local area
Day 7
AM Zip Wire
PM Family Challenge
Day 8
Depart AM
Please note this is a sample itinerary for illustrative purposes only. Itineraries will be planned by the centre shortly before your arrival.
Make sure you check out our Special Offers page here!
Please note the below dates and prices are as reflected in our 2020 Family Adventures brochure. For live availability please email our team on families@pgl.co.uk.
2021 Disneyland® Adventure holiday
Duration/Dates
Accommodation
Adult price
Child price
(5-18)
Child price
(3-4)
Child price
(under 3)
7 nights (Sun-Sun)/
25/07, 01/08, 08/08, 15/08, 22/08
(Own travel)
Family room
£635
£569
£309
FREE
7 nights (Sun-Sun)/
25/07, 01/08, 0808, 15/08, 22/08
(Own travel)
Adult and Child rooms
£729
£645
£359
FREE
There are different options available for travelling to Château de Grande Romaine:
Self drive option**. Calais ferry port is approx three and a half hours drive away.
Coach travel option (7 night Disneyland® and Paris only, includes travel to and from centre and local transfers to and from Disneyland® Resort and Paris for sightseeing). Pick up points in Manchester, Birmingham, London and Dover.
Arriving by air or Eurostar? We advise that you hire a car as the Château is not directly served by public transport.
Nearest airport/Eurostar (approx.drive time): Charles de Gaulle and Orly 60 minutes/Gare du Nord 45 minutes.
**Please note, on all holidays except coach travel holidays, travel to, from and between our centres and local transfers, including to and from Disneyland® Paris are not included. We provide a coach to and from Paris with a PGL courier on the sightseeing day to Paris.
Guide prices for local Disneyland® Paris costs for self drive holidays:
Guide price (based on 2019 average prices) for 4 person taxi to or from Disneyland® Paris (one way) 85 Euros.
Guide price for self drive parking at Disneyland® Paris per car, per day, 30 Euros.